Council take ownership of Capital Court site after completion of CPO process
Brentford FC are one step closer to a new stadium with the completion of the Compulsory Purchase Order (CPO) process for the part of the site that they did not previously own.
The club have today (1 September) confirmed that the London Borough of Hounslow has completed the land acquisition for the Brentford Community Stadium and taken freehold possession of the land including the Lionel Road South, Duffy and Capital Court sites, and the Football Club has taken control of this land through lease arrangements. The freehold interest will return to the Club on completion of the new stadium development.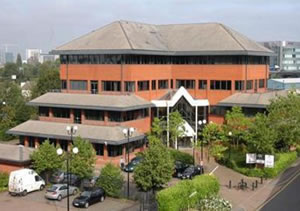 Capital Court
This ends an 18 month process of taking control of the so-called 'ransom strip' which a third party refused to sell to the club. The CPO was approved by the then Secretary of State for Communities and Local Government, Greg Clark MP in April. A public inquiry was held into the grant of the order at which local residents' groups made submissions against the plan which will lead to the building of 910 flats in the area as well as a new stadium.
The order gives them ownership of the Capital Court site, currently occupied by a disused and derelict office block, together with other small parcels of land that will complete the 11.7 acre development site.
A spokesperson for Brentford FC said,;"Before any work can start on site, there are a number of planning and Section 106 requirements that have to be fulfilled. We are working hard with our developer, Prime Place, to achieve these as quickly as possible".
Capital Court as it would be after the development
The CPO was needed because First Industrial (FIL) refused to sell their Capital Court site on Capital Interchange Way. The site has been empty for a number of years and Brentford FC argued that First Industrial are simply holding on to their land for a higher price, despite protracted negotiations between FIL and BFC. The club claimed that the scheme would not be viable without the Capital Court site.
September 1, 2016