All Clear Designs were responsible for making the building accessible for disabled people
A local Chiswick company played an integral role in the refurbishment of the Bush Theatre which has opened to the public to great acclaim.
All Clear Designs, which is based in Devonshire News, was responsible for making the building fully accessible for disabled people.
Director James Holmes-Siedle and colleague Jane Hanna have worked with Haworth Tompkins (the principal architects in the Bush project), on the National Theatre, and the team have been involved in making theatres all over London accessible to disabled people. They have worked on Southwark Playhouse, the Oxford Playhouse and the London Film School, amongst others.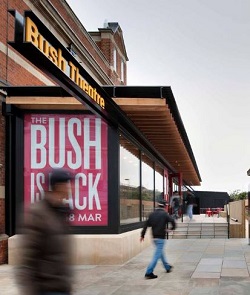 A qualified experimental psychologist James has a particular interest in the needs of young people with learning disabilities, having run the Elfrida Rathbone 7 O'clock Youth Club for 6 years, working with a wide range of young disabled people. A particular love of theatre lead to the production of 36 shows at Oxford and at the Edinburgh Fringe, and has lead to a natural gravitation towards theatre projects relating to access for disabled people. James has also designed and built theatres, including the 200 seat venue at Oxford House in Bethnal Green, which opened in 2004.
Jane Hanna has over ten years experience in architectural practice and has worked on projects ranging from large residential developments, office refurbishments and fit outs, domestic refurbishments, and theatres.
The Bush Theatre reopened on Saturday 18 March after a year long £4.3m revamp, with the local community crowding in to enjoy the party atmosphere, with champagne, music from the London Community Gospel Choir and Ashley Abigo, speeches and tours of the building.
There was unanimous approval from the crowds for the new fully accessible theatre and outdoor terrace, upgraded bar and library and newly created studio in addition to the main theatre.
Behind the scenes, visitors were shown new rehearsal space, dressing rooms and attic space including a dedicated writer's room. The Bush says the extra space, created by architects Haworth Tompkins, will together allow over 50% more produced, co-produced and commissioned productions
The Library Bar (with free wifi) is now open as usual for people chill or hang out with normal opening times from 10am-11pm from Monday till Saturday. You can read a report on the new theatre here.
March 24, 2017