Gary Malcolm helps children with cricketing aspirations by loping off his locks
Local Lib Dem councillor Gary Malcolm had his hair chopped off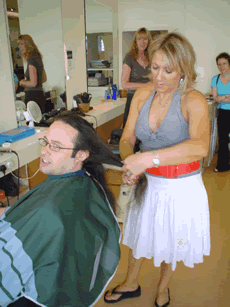 earlier this summer to raise money for two charities one of which was a cricketing charity in Thailand called the Chiang Mai Schools Cricket Alliance.
Gary met with fellow cricketer Dave Walker to hand over the money he raised (£550 worth of Thailand Baht). Dave, who now spends most of his time in Thailand where he is involved with coaching Thai children in Chiang Mai, presented Gary with an Asian Cricket Conference cap.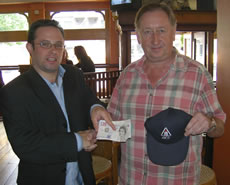 Dave Walker thanked Gary for cutting his hair saying "The money he raised will help buy equipment and allow even more children to play cricket. It is great to help coach children to play cricket and this money will help tremendously."
Gary Malcolm said it had been a pleasure to help his cricketing team-mate. "A friend of mine suggested a while back I should cut my hair off for charity but I wasn't brave enough. Then the same friend prompted me again and I decided to do it. I wanted to help a sporting charity as I play a lot of cricket in the summer. I think Dave Walker will use the money to really make a difference."
Gary, who was closely attached to his ponytail for 18 years, has no regrets in helping this good cause.

September 13, 2006