As Hounslow Council aims for a recycling target of 50% of household waste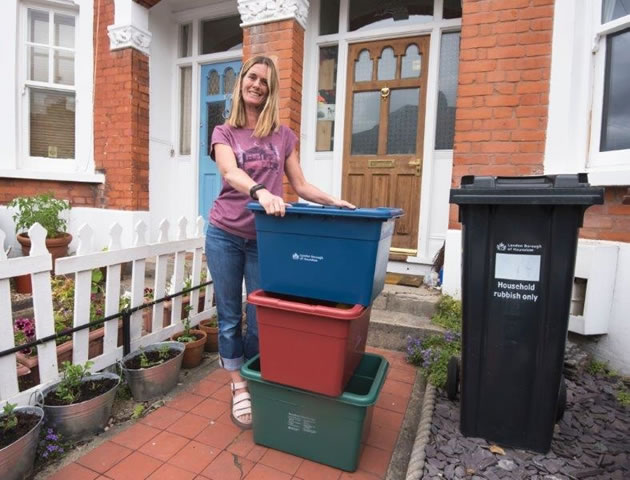 Delivery has started of the new red and blue recycling boxes ahead of the new weekly recycling collection service announced by Hounslow Council.
Wheelie bins, which contain rubbish that is not recycled, will be collected fortnightly instead of weekly from 10 July 2017. The new system for recycling has started as Hounslow Council wants the rate of recycling to increase from the current 30% to 50% by 2019.
While the wheelie bins will be collected fortnightly, the recycling and food waste refuse will continue to be collected weekly. From this month, residents will have new Red and Blue collection boxes, the red for plastics and cans, the blue for paper and card, and the current green box for glass bottles and jars. Food waste biodegradable bags will also be delivered to be put into the current green food waste caddy.
So remember it is:
A new red recycling box for plastics and cans
A new blue recycling box for paper and card along with a box net to use as a cover on windy days
A roll of 52 biodegradable bags for food waste.
Once residents receive their new recycling boxes their weekly recycling collection will then begin the following week on the same collection day.
Your new red and blue recycling boxes will be delivered between Monday 5 June and Friday 30 June, along with information about your weekly recycling collections (including plastics) and what you need to recycle in what box. Residents should start using the new boxes as soon as they receive them.
Residents can find out the exact date of when they will receive their new recycling boxes on www.hounslow.gov.uk/newboxesdelivery
Once your new recycling boxes are delivered (between Monday 5 June and Friday 30 June) the Council will then collect all recycling the following week on the same collection day.
All other rubbish, in black wheelie bins, will be collected every fortnight starting from Monday 10 July 2017.
Garden waste has already become a charge-for service since 2016. Hounslow Council originally intended this new service to start last year.
The Council said then that the changes were part of a drive to cut the amount of waste being sent to landfill and help residents to recycle at least half of their rubbish by 2020. After this date, the Mayor of London will impose hefty fines on local authorities that fail to meet this target.
Currently residents in Hounslow only recycle 35 per cent of their rubbish – one of the lowest rates in London. The Council estimate that up to £1.35 million per annum could be saved if recycling rates rose to 50%
June 8, 2017