Repossession notice appears in window of sister restaurant
More than two months after its sudden closure, there is still no sign of Charlotte's Bistro re-opening.
But with the closures of its flagship restaurant at the Dickens Yard development in Ealing which now has a repossession notice in its window, and sister restaurant Charlotte's Place, the prospect of a return for the Turnham Green Terrace site appear dim.
We have made repeated attempts to contact the owner but have had no response having earlier been told that a reopening was planned.
The undated notices on the doors posted in November 2019 still read: 'UNFORTUNATELY, DUE TO A LACK OF GAS WE ARE CLOSING TODAY
APOLOGIES FOR ANY INCONVENIENCE CAUSED
HOPEFULLY WE WILL BE BACK OPEN TOMORROW'
The telephone lines are not ringing out and there is no updated information on their website, apart from the fact that it is not possible to book a table online.
The three restaurants have been beset by back luck for the past few years.
Charlotte's W5 was the first bar/restaurant to open in Dickens Yard, the new Ealing town centre development in 2016. Owner Alex Wrethman was offered the imposing site - a former stables - due to the success of his two other projects – Charlotte's Place in Ealing Common, & Charlotte's Bistro, Chiswick.
The longstanding Ealing institution 'Charlotte's Place' was closed after a freak gas explosion and accident at Easter time 2018 in which the acting head chef was badly injured.
The site was later put up for auction sale by the receiver and was sold for £814,000 in May.
Charlotte's Bistro in Chiswick shut before Christmas 2019 as did Charlotte's W5, and at the time management said the closures were due to 'kitchen repairs' and 'electrical issues'.
However neither of the restaurants reopened and a legal notice of repossession has been placed in the window of the Dickens Yard restaurant.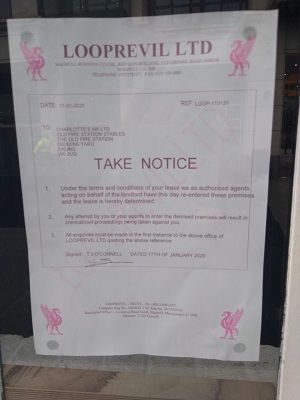 Charlotte's was approved for a Corporate Voluntary Arrangement (CVA) in March 2018 after a notice to strike off the company was posted in 2017. An updated CVA was made in June 2019.
A CVA is an insolvency procedure allowing a company with debt problems to reach a voluntary agreement with its business creditors regarding repayment of all, or part of its corporate debts over an agreed time period. Charlotte's W5 Ltd which had a registered address at the stable block has been in a voluntary arrangement with creditors since 11 October according to Companies House.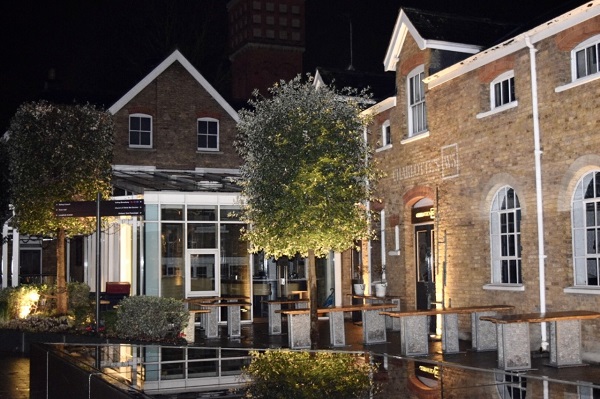 Charlotte's W5, image Liz Jenner
Last November we asked Charlotte's management for comment as to why the business has folded but haven't received any statement or explanation.
Developers St George have also not shed any further light on the closure but a spokesperson was adamant that despite it Dickens Yard was doing well.
November 29, 2019