Filming now in a location near you
Related Links
BBC's Shabnam Mahmood interviews Atul Malhotra
Sam Vincenti 'Akbar'
Participate
Comment on this story on the forum
Viv Ellis spends more time on set with 'Amar Akbar and Tony' but still they don't offer her a part.
West London is really getting the spotlight treatment with 'Amar Akbar and Tony' – an independent movie being shot entirely on location in the area over the next month.
Last week it was Chiswick's turn when the actors, crew and cameras were at St Michael & All Angels Church on Bath Road.
The movie is the work of writer and filmmaker Atul Malhotra who was brought up in Harrow but is now Acton based. "It's a very positive take on the British /Asian community " he told me, "it's about three lads who grow up together in the area, it's a very positive story" says Atul, "It's about taking your roots as a base, but bringing them forward. There have been lots of portrayals of Asian people wanting to escape from their cultural heritage … I wanted to explore the contrasting angle. My film is a celebration of the bonds that tie us together through friendship, love, loss and ultimately redemption."
Word is clearly getting around about the film. There were lots of print and TV reporters on set. Arti Jangra from MATV at Wembley (was there reporting for her channel. "I hope this inspires more companies to use West London as their backdrop. We are used to seeing Bollywood movies in Southall but this is using a wide range – and it's a great storyline. And let's face it, with better tax breaks available now, why not?"
The movie has three weddings and a funeral. The filming in Chiswick was for one of the weddings. "We had a venue lined up, but it fell through at the last minute", producer Victoria Wood told me over lunch at The Tabard pub, "I called the London Diocese who were completely unfazed and came up with loads of other choices. We thought St Michael's looked beautiful so made enquiries and the people there were amazing – completely unfazed, and so accommodating. It was all arranged in a real rush. It's a stunning church so we are all really happy." And she says she's had lots of help. "I'd really like to thank Ewan Willmott from West London Film – who's been beyond brilliant.
Ealing actor Sam Vincenti who plays the 'Akbar' of the title chatted during a break. "Today we're filming a wedding. It's my character getting married. But there's more weddings to come – a Moslem ceremony AND a big wedding scene at the end with loads of Bhangra dancing" (note to self, be there for that one!)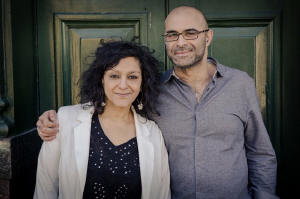 Meera Syal and writer Atul Malhotra
On another day, I was invited to pop along to The Common Room bar in Ealing to chat to actress Meera Syal . "I play Honey who's a very "vampy" woman from India. She makes contact with one of the male characters on a dating website but has lied about herself on her profile so he turns up expecting a young girl and ends up with an older maneater." I've not really been offered anything like this before - it's unusual and very funny"
One of Meera's TV roles is the wonderfully acerbic grandmother, 'Ummi' in the series 'The Kumars at No 42' (which returns to our TV screens soon – this time not on the BBC but Sky 1). The Kumars live in Wembley, but apart from that, does Meera have any West London roots in reality?
"My In laws (she's married to actor Sanjeev Bhaskar) live in Hounslow so we are often on the North Circular going to visit." And Southall holds a special place in her heart. Seera's family background is pretty political both her grandfathers campaigned against British rule in India 'Southall is where Punjabis first put down roots and it's the home of the Indian Workers' Association and of course the Southall uprising of 79 – so it has lots of historic resonance for me'
I have been watching as writer/director Atul dashes about the sets organising the shots, lights and sound which, as I know from experience in TV, is very, very stressful, and asked him how much weight he's lost in the two weeks of shooting so far with all the hard work and stress. Laughing, he told me: "I wish! I've put weight ON – there's an endless supply of chocolate bars around".
The edit process is going on simultaneously- they are hoping to get the film done in time for the Toronto Film Festival in September (I think you'll need even more chocolate if you're going to make that, Atul!) but the movie should be "at a cinema near you" early 2014.
There are still scenes to be filmed for which they will need extras. Follow the movie on Facebook (/amarakbarandtony) and Twitter (@amarakbarntony) to keep up with developments – and be in with a chance of being an extra – there are lots of call outs.
Viv Ellis
23rd May 2013