The most read Chiswick news stories From 2015
Year Summary
Some of the big issues for Chiswick residents in 2015 were the death of local resident Anne Naysmith, wheelie bins, the Lend Lease development in front of Sainsbury, the news of a possible 42-storey tower to replace the Octopus , continuing controversy over a third runway for Heathrow Airport ( a new group CHATR) was formed in Chiswick to fight airport expansion.
The Brentford Football Stadium development at Lionel Road, and its enabling development, and speculation over whether the proposed Picturehouse Cinema would ever go ahead, were also talking points for local people.
Chiswick got a new MP in the General Election when Ruth Cadbury of the Labour Party replaced Mary Macleod. Angie Bray lost out to Rupa Huq in Ealing.
Parking in Chiswick , new restaurants, crime stories and traffic were also popular local reads throughout the year. Property sales continued to make headline as the
Restaurants arriving to Chiswick included Foxlows which replaced Sam's Brasserie, and Brew into the former La Mancha site. Yupa Thai also closed. Some new coffee shops included Chief Coffee, Tamp, and The Coffee Traveller and Urban Pantry. Vinyl and Brew also opened.
Chisou closed and is to be turned into flats. A local fight for the Pissarro site to be retained as a restaurant continues.
Some familiar shops disappeared from the High Road, including Superdrug, which has reopened as Zakti, Thomas Kinkade and Noa Noa. Dynasty relocated to Twickenham. Mountain Warehouse opened.
Local groups in Chiswick continued their hard work, from the High Road Action Group to local councillors and residents' groups trying to improve their local area. The Bedford Park Festival continued to attract lots of local support.
Chiswick celebrities continued to make news- David Tennant failed in his attempt to extend his family home in Chiswick, Clare Balding got married as did Declan Donnelly (of Ant and Dec).
Local artists Alfred Daniels and William Bowyer died.
Independent traders in Chiswick held a Street Party to publicise the benefits of local shopping and there was a successfulFood Market for the first time held in the car-park outside the police station.

Crime in Chiswick throughout the year ranged from burglaries to phone snatches and street scams, and the area retained high figures for theft from motor vehicles.
Local schools continued to do well, although at the end of the year Chiswick School received an Ofsted report which said it 'required improvement', while Strand on the Green Junior and Infant schools started a campaign against amalgamation into one new school.
Participate
Sign up for our free weekly newsletter

Comment on this story on the
January
Sainsbury's Aim to Block Lend Lease Development
It would 'prejudice' development of car park 'an emerging policy requirement of the Council'

Woman Attacked And Robbed At Strand On The Green
Police appeal for witnesses to incident in passageway near Bell & Crown pub

Sam's 'Al Fresco' Dining Project For Chiswick
Plan for pedestrianising Barley Mow goes before Planning Committee
Sam Harrison
February
Chiswick Pays Tribute To Anne Naysmith
As preparations get underway for funeral which is expected to attract huge crowd


Picture: @janeyjones1
Packhorse & Talbot Saved For Now
Council must consult on CHR Conservation Area following High Court judgment
Flats The Winners in Local Chiswick Sales
Average price dips below a million pounds for houses
March
Chiswick High Road Fines Top One Million Pounds in a Year
The highest amount raised from any road in the UK according to report
Landlord 'Does Not Know' Why Picturehouse Cinema Is Delayed
Both sides appear to blame each other as 'discussions' continue
Chiswick High Road Moves Closer To Being A Conservation Area
Heathfield Terrace to Chiswick Lane will get extra planning protection
April
Clare Balding Reveals She Got Married
Upgraded civil partnership with Alice Arnold in quiet ceremony
'I'm Not A Robot Politician' Says Ruth Cadbury
Local Labour candidate defends herself after her memory lapse on party manifesto
Superdrug To Close Its Chiswick Branch In June
Another well-known business bids farewell to the High Road


May
Labour Win in Brentford and Isleworth
Ruth Cadbury unseats Mary Macleod by just 465 votes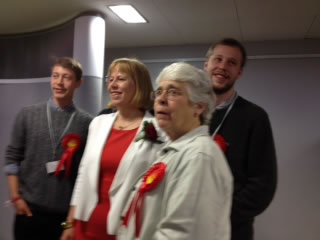 Ruth Cadbury celebrates her victory with her mother and family
Labour Take Ealing Central and Acton
Rupa Huq ousts Angie Bray by just 274 votes
Chiswick Moran Becomes The Clayton Hotel
Name change after Dalata hotel group takes over
June

Mounting Concern In Bedford Park About Wheelie Bins
Petition launched to have the area considered a special case
Chiswick Memorial Planned To Honour WB Yeats
Campaign launched for statue to mark the Nobel Prizewinning poet's links with Bedford Park
Tricorn Tower Skyscraper Plan for Chiswick Roundabout
Galliard confirm they have acquired London Octopus site
Tricorn Tower plan for Chiswick Roundabout
July
Third Runway Would Have Major Impact On Chiswick
Increased noise and local traffic congestion predicted
Neil Wallis 'May Have To Leave Chiswick'
Praises local community for support but says his finances are ruined
Chiswick To Get A Premier Inn
Plans to convert vacant building at Hogarth Business Park
August
Disappointment in English Language Hits Chiswick School GCSEs
School sees first overall dip in results for seven years
Residents Cry 'Foul' Over Stadium Development Consultation
Originally less than a week's notice was given to respond to revised proposals
Overview of completed development at Lionel Road South

Rena Salmon Suffers Heart Attack on Day Release
Gunned down husband's mistress on Chiswick High Road in 2002
September
Has Hounslow Council Changed Position On Heathrow?
Anti-expansion campaigners want clarification of its position
Brew Cafe To Open A Branch In Chiswick
Will the new restaurant be all the rage with locals?
All Bar One Finally Calls 'Time'
Will remain as a bar and restaurant under new ownership
October
Rent Increases 'Driving Out' Independent Shops
Veteran trader slams 'lack of concern' for local economy by some agents
Skyscraper To 'Tower' Over Chiswick Roundabout
Just how tall will the development be on former Octopus site?
Man Arrested in Connection With Kew Bridge Stabbing
Both victims left in 'serious but stable' condition in hospital
November
£4,000 Stolen from Elderly Woman on E3 Bus
70-year-old victim had just withdrawn cash from Chiswick High Road bank
Jeremy Clarkson's 'Move' To Chiswick
Former Top Gear presenter and team take new base in Power Road
Dr Who Never Had This Trouble With The Tardis
Controversy over David Tennant's plan to extend his Chiswick home
December
CPZ 'Creep' Looks Destined For Grove Park
Lionel Road stadium and displacement parking causing fresh concern
Wheelie Bins Protest Taken To Hounslow Council Leader's Front Door
Locals dump the new bins outside Cllr Steve Curran's house
The bins piled up outside the house
Roebuck Bar Staff Member Has Lucky Escape in Paris
Lydia Vassallo was in the Bataclan concert hall during attack

December 26, 2015